Independently Released Games
» Game
SUPER Witch Hunter Pro (Extended)
Don the spiffy buckled hat of Hopkins - a Puritan novice witch hunter. Keep the crowds (and Father Horatio) appeased with a steady stream of heretical souls, cleansed by raging flame. How will history judge your actions? The hero of today is oft the villain on the morrow...

I did all the programming and particle effects. Ben Kerslake did all the amazing artwork.

This is the fully realized version of the original Ludum Dare concept (below).

» Game
SUPER Witch Hunter Pro
Made in 72 hours for the Ludum Dare #25 Jam. Theme: You are the villain.

» Game
PLOG
The universe has sprung a serious leak.
Oddly shaped black holes are appearing across our galaxy. Worlds are being consumed.
You must align your containment field to PLOG these cosmic breaches.

Made in 72 hours for the Ludum Dare #26 Jam. Theme: Minimalism.

» Game
Screams from the well
In "Screams from the well" you wake up down the bottom of a well. How did you get there? and more importantly, how do you get out? The story will bend and twist according to your choices as you fight for survival and escape from the well.

This is a choosse your own adventure text-game. The game has no graphics, only words. It is a story and it changes and evolves based on your choices. Your fate is in your hands and it is up to you to reach a satisfying ending. Can you escape the well?



For this game I developed a custom text-adventure engine for the Unity3D engine. It looks something like this:
If you are interested, please let me know.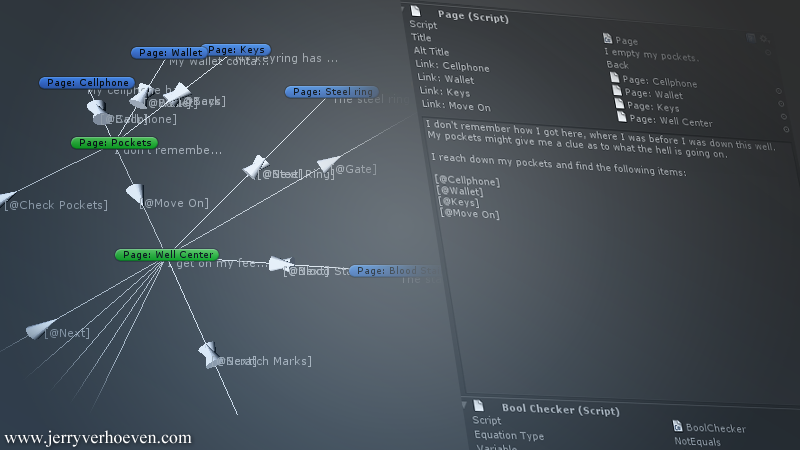 » Game
evoxy
A game about evolving a mysterious facetted being. Change his colors and behaviors by bringing the brightly colored meteors that fall from the sky to the altars. Surely it is susceptible to such generosity.

It's up to you to bend this being to your will with the power of evolution!

Made in 48 hours for the Ludum Dare #24 Compo. Theme: Evolution.